how to write a supporting statement

When constructing your supporting statement, always have a copy of the job advert that you're applying for in front of you. Note down the specific skills being asked for in the advert and make sure that you refer back to these at all times; try not to go off on a tangent.
4. Keep it short and easy-to-read

We can't stress how important brevity can be. A covering email or letter needs to be short and sweet, otherwise your key messages could well be lost. Remember the reader! They will have lots of CVs on their desk, possibly just like yours.
When you're applying for something, remember that you're being judged from the moment someone opens up your CV. Your supporting statement, covering letter or email is so important to get your reader to this point. Always think about your audience when you're composing an application. Don't just write, "Please put me forward for this role" and leave it at that. You need to sell yourself from the word go.
Address each point requested.
Be specific, concise, and give clear examples.
Describe your responsibility, and how you completed the duty/task/project.
Focus on what you personally did, rather than what your team or your boss did.
If relevant to the criteria, explain the outcomes generated by what you described, emphasizing what you accomplished, learned or contributed. Where applicable you may also wish to highlight the outcomes your team/project delivered, while emphasising your personal work and contribution.
Provide concrete examples and exact numbers wherever you can, e.g 'increased productivity by 10%, cost saved £10k, increased efficiency by 5%, created a 3 year plan, managed a team of 3 marketing administrators, etc.
Ensure the supporting statement conveys your personality, lots of positive statements and shows how interested in the role you are.
Closing your supporting statement…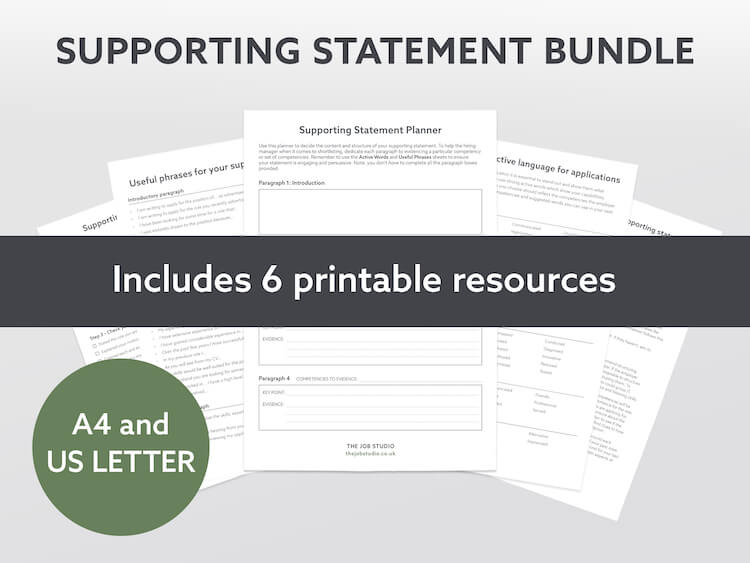 If the employer has specified a word limit, make sure you stick to it. If they haven't, aim to write no longer than a page and a half in total.
Another point to consider is the order of your statement, and which competencies will be addressed first. It's a good idea to tackle them in terms of their overall importance for the role. Generally speaking, if you've got relevant experience for the position you are applying for, you should really write about this first as it's a big selling factor. If you're unsure about the importance of the competencies review the job advert/person specification to see if the employer has grouped them into 'Essential' and 'Desirable'. You may also find clues to how frequently the employer has referred to the competencies in the job description.
With the keywords from the job description, start brainstorming personal examples that demonstrate those skills. Try to get specific, but consider a wide range of examples that cover several skills you possess. The examples should also show your personal actions and the results you achieved.
Now you're ready to work on the rest of your supporting statement. Although some companies may specify how long to make the statement, it's a good idea to keep it under two pages. You should aim to keep your ideas brief and succinct. Also, use headings, bullet points, and other formatting techniques to make your statement easy to scan.
References:
http://www.ten2two.org/job-applications-tips-writing-cover-letter-supporting-statement/
http://longmirerecruitment.co.uk/2019/11/20/writing-a-strong-supporting-statement/
http://thejobstudio.co.uk/application-advice/how-to-write-a-supporting-statement-for-a-job-application/
http://magoosh.com/pro-writing/how-to-write-a-supporting-statement/